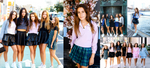 I am so excited to finally share my Holiday collection that I have been designing for almost a year! I started sewing when I was six years old, and it's been my dream to make beautiful pieces that inspire you to be "The Me" you want to be.
This special collection, Theme by Ariella, is full of must have pieces that are perfect for hanging out, big nights out, the holidays, sleepovers, working out and everything in between!
I am so proud to create this collection for Walmart and bring you style at affordable prices and a range of sizes from 7 to 16.  I believe that fashion can be accessible, inclusive, diverse and stylish! Everyone should be able to feel the confidence and positive energy great style can bring. 
I am so grateful for all of your love and support on my journey as a young designer and founder!
Happy Holidays! New styles and sizes dropping every few days! Shop my collection at www.theme-nyc.com/shopholiday
XXX