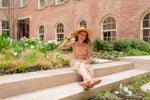 I am so proud to introduce my most romantic, gorgeous, Spring dress ever!!! I had so much fun designing and sewing this piece! The Rebecca Dress is named after the amazing Rebecca Minkoff.  The long flowing silk skirt covered in Spring Flowers also has a touch of gold shimmer. It is absolutely beautiful and playful. The raw edges at the waist make  The Rebecca so dreamy! You can also tie the top straps or cross them in the back like magic! I'm in love with this dress.  I was sooo inspired meeting Rebecca Minkoff this April. She shared how she took risks to follow her dream. She moved to NYC at just 18 years old and started designing when she was 7 also! Her cool brother became her partner Uri Minkoff.  My little bro Asher is always so supportive of Theme too. Rebecca is now giving support to other females to follow their dreams. I am so proud to be included as the youngest Female Founder in The Female Founder Collective!! I am so honored to be part of such an important organization.
The Rebecca Dress is for The (Female Founder in) me! I hope to follow in your rockstar, amazing footsteps! 
Coming Soon. Email me to join the waitlist.